Project
Tubulars
In offshore constructions and equipment e.g. Jacket foundations and Jack-Up Barges large tubulars are used as legs and bracings.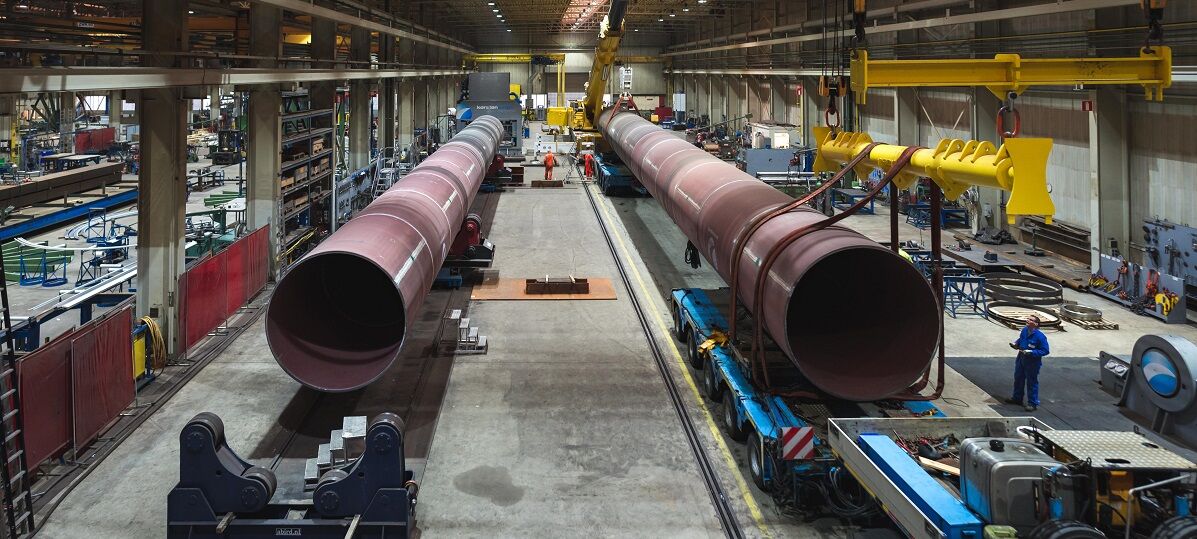 Offshore wind constructions and equipment are subject to extreme conditions. Therefor the structural legs have customer specific dimensions, wall-thicknesses, material grades and high production process requirements.
Kersten has a vast track record in the production of tubulars with customer specific dimensions for offshore (wind) constructions and equipment. Besides tubulars in standard material such as S355, Kersten is specialized in the manufacturing of tubulars in high steel grades such as S460 and S690.
Tubular manufacturing
For manufacturing these high requirement tubulars, Kersten has a dedicated production line.
The plates are cut to size using plasma- or oxygen fuel cutting technology depending on the wall thickness, including welding edges and taperings if required.
The plate layouts are rolled into cylinders using Europe's strongest plate rolling machines.
The cylinders' longitudinal seams are welded using automated submerged arc welding technology.
After welding the cylinders are calibrated (re-rolled)
The cylinders are put together on the tubular manufacturing lines, where the round seams are welded using multi-wire submerged arc welding.
If required the tubulars can be fitted with weld beads, grout seals, shim plates, reinforcement rings, brackets, cut-outs, etc.
The welding of these offshore components have to meet high requirements when it comes to qualification of personnel and production processes. At Kersten we can meet all the requirements of the widely used offshore standards such as EN1090 (Exc.4), EN-ISO 3834-2, DIN18.800, Norsok, ASME, EN15614-1, EMUA, DNV, etc. All welds are third party inspected. Dependent on requirements visually inspected, magnetic tested, ultrasonic tested and X-ray tested.
Capacities:
Wall thicknesses up to 150mm
Diameters up to 5,8 meters
Weights up to 100 Tons (per section)
Lengths up to 40 meters (per section)
Materials, S355, S460, S690QL
Services:
Co-engineering
Cutting plate layouts
Welding seam preparation and taperings
Manufacturing cylindrical segments

Rolling steel plates
Longitudinal welding

Circumferential welding
Production and assembly of add-on components, such as cones, shim plates, reinforcement rings, etc.
(3D) cutting to fixed lengths, machining and tapering of the ends.
Welding Processes:
SAW (121)
MIG-MAG (135-136)
TIG/WIG (141)
Standards:
EN 1090 EXC 4
EN-ISO 3834 - 2
DIN 18.800-7 klasse E (Grosser Eignungsnachweis)
Welding method qualifications acc. to ASME and EN 15614 -1, NORSOK, EMUA, DNV, etc.
Remarking competence certificate acc. to 3.1 and 3.2 EN10204:2004