Project
Leap into the deep, Eindhoven
Creativity transformed into reality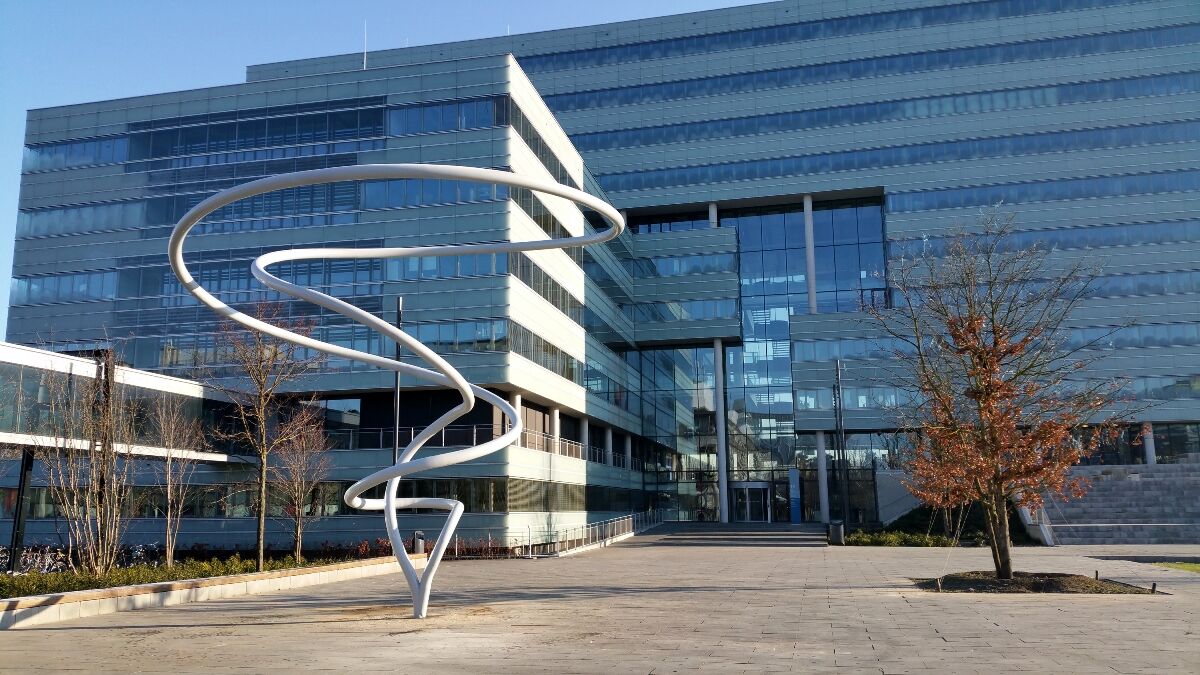 Leap into the deep' literally means a jump into the deep. A whirl; a swirl; the spiral movement of water to a certain point. It symbolises the name of the nearby building, 'Flux'.
ARTISTIC EYE CATCHER
The faculties of Applied Physics and Electrical Engineering of the Eindhoven University of Technology (TU/e) are accommodated in the new 'Flux' building in Eindhoven, The Netherlands. The sculpture Leap into the Deep has been placed in front of the building as an artistic eye-catcher and is owned by the TU/e Art Committee.
VISION OF THE ARTIST
With a scale model under his arm, visual artist Tijs Rooijakkers visited Kersten. This is how he wanted it to become!
Together with our team of engineers and bending specialists, we sat down with the artist and mapped out the possibilities. The result? A realisable design without in any way compromising the artist's vision and creativity.
SHORT LINES
The process that followed was an intensive collaboration between the artist and the Kersten team. Kersten took on the complete project management and took care of the entire process, from engineering to production and on-site installation. This resulted in short lines of communication between the artist and Kersten, which made the entire process pleasant, efficient and successful.
STRUCTURAL CALCULATION
'Leap into the deep' is a remarkable structure that starts at a narrow level and extends to 7.2 metres in width. Rijk Blok, engineer at TU Eindhoven, made structural calculations. Based on these results, a construction of steel tubes (S355) with a diameter of 193.7 mm and four different wall thicknesses was used. The thick-walled tubes were used at the bottom of the sculpture and provide extra strength. The upper part of the sculpture is made of thin-walled tubes to save weight and to keep it balanced.
FULLY 3D BENT
The tubes are 3D bent in all different radii. The curved tubes were cut to size and fitted with a 3D contour for optimal tube-to-tube connection. The tubes were welded into four curved section parts that were then given a functional and visual surface treatment. This included abrasive blasting, galvanisation, an epoxy primer and powder coating.
On-site at the TU in Eindhoven, the sections were mounted on the base and welded together. Subsequently, the welding work was polished and finished on-site to create a seamless structure.
IMPRESSIVE RESULT
The result is an impressive 3D curved object measuring 7.2 metres wide by 7.2 metres high. From a certain perspective, the sculpture seems to follow the shape of the windows of the Flux building.