Project
Terra - Sustainability Pavilion
The Expo2020 Dubai world exhibition is a true paradise for architecture enthusiasts; a showcase for renowned architecture firms from all over the world where they can express their creativity to the full.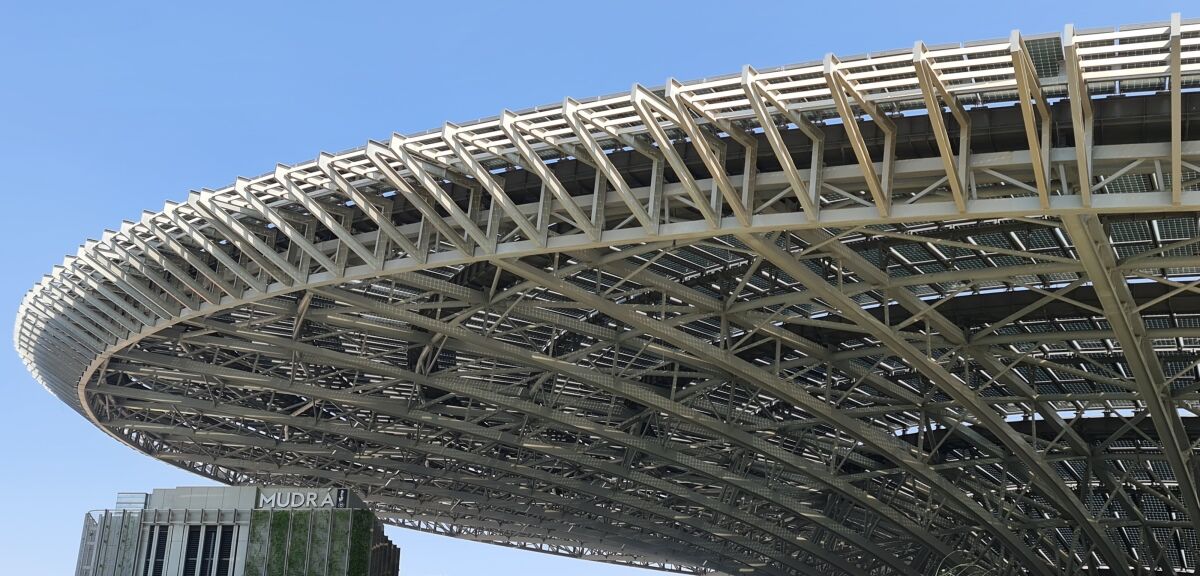 Kersten, specialists in curved steel and aluminium structures, has contributed to numerous buildings. This includes the Terra sustainability pavilion, a unique and revolutionary structure and one of the three main pavilions at the Expo2020.

Inspired by nature
Terra was designed by Grimshaw Architects and focuses entirely on sustainability. An extensive study led up to the final design with the aim of creating a circular structure that is independent of the electricity and water networks.
The architects were inspired by the Ghaf Tree, a special type of tree that remains green even in a desert environment. The tree forms a parasol like structure and offers protection against the extreme heat and drought to animals and various plant species. Like this tree, Terra consists of a relatively narrow base with a large canopy measuring around 135 metres wide. The shade and breeze created by this makes it pleasantly cool under the structure, even at outdoor temperatures of 50°C.

Curved construction for the roof canopy
The curved roof construction consists of steel pipes and box sections, small to large and heavy sizes that are bent into various radii. Kersten rolled steel tubes and pipes into the correct radius at its local production location in the Middle East.
Kersten bent a total of more than 300 tons of steel profiles.

Self-sufficient in energy and water
As a result of the application of innovative techniques and systems, Terra is completely self-sufficient in electricity and water. This resulted in the LEED Platinum certificate, the highest level achievable in sustainability certification. The LEED Zero Energy and LEED Zero Water certificates were also awarded to Terra.
The canopy is covered with more than 1,000 solar panels to provide for its own energy needs. In addition, around the main pavilion there are eighteen 'E-trees' of about 15-18 meters high; these are smaller 'tree-structures', fitted with solar panels that generate an extra 2.6GWH of energy annually.
The pavilion also provides for its own water use. There are several 'W-trees' around Terra. These are tree structures that collect dew from the large fluctuations in day and night temperatures. In addition, Terra makes use of local groundwater sources, rainwater and waste water are collected and filtered. This produces an average of 30 liters per day.
After Expo2020
Expo2020 Dubai will run from 1 October 2021 to 31 March 2022 and will then largely be taken down. Terra, however, will continue to exist as a sustainability museum where visitors will learn how they can reduce their carbon footprint and impact on the environment