Project
International bus station Katowice
Moving towards the future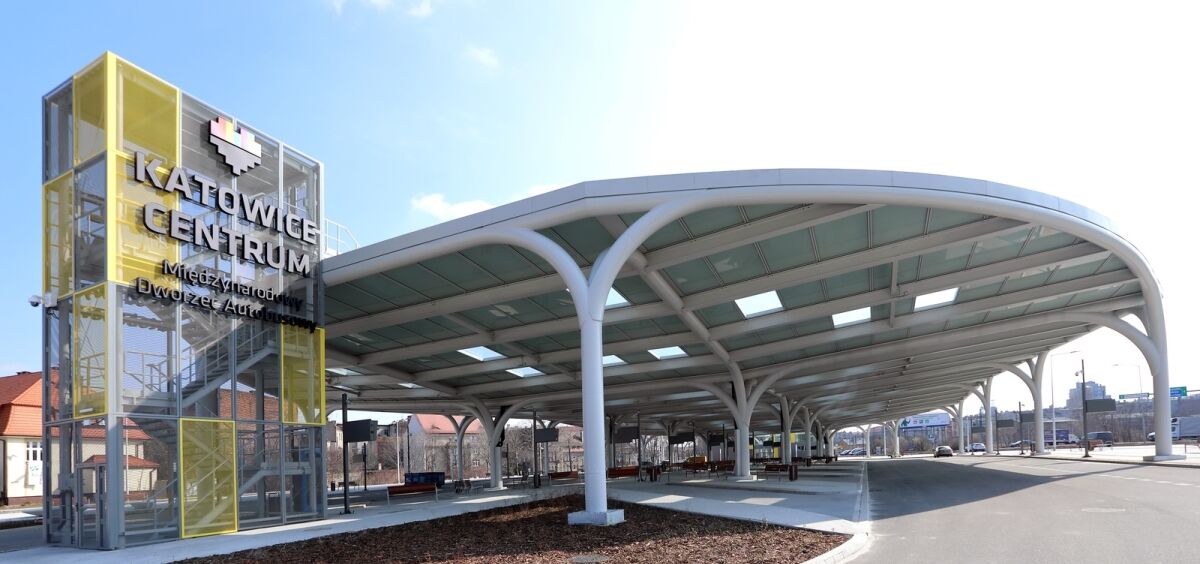 The government of the Polish city of Katowice has drawn up a comprehensive strategic plan to transform the city from a dormant industrial town to a sustainable, future-oriented metropolis. A new and modern station is part of this project.
BOOST ACCESSIBILITY
The city of Katowice is the capital of Silesia Province and is also home to the Katowice-Pyrzowice International Airport. It connects the city and the region with many destinations inside and outside Europe.
Good accessibility by public transport is therefore of great importance. In addition, sustainability plays a central role. The new, modern station contributes to promoting the use of sustainable transport as an interface between rail, bus, tram and bicycle.
MULTIFUNCTIONAL BUS STATION
The new bus station covers a total area of 4,220 m² and accommodates 15 covered bus terminals for regional, national and international bus transport. In addition, there will be more than 130 car parking spaces, covered bicycle parking facilities and hospitality areas where travellers can wait or just relax.
The station is directly connected to the city centre, the railway line and the airport.
UNIQUE CONSTRUCTION
The bus station immediately catches the eye due to its unique open construction. The roof is supported by decoratively curved steel tubes around and in the centre of the station.
Kersten bent and cut to size a total of 500Ton tubes.
INDUCTION BENDING + 3D ROBOT CUTTING
The steel tubes (S355J2) have a dimension of Ø508 x 20-30mm and were bent by Kersten. For this we used the induction bending technology. With induction bending, the tube is heated locally to as much as 1,100°C in order to bend it to the required radius.
After the tubes were bent, Kersten cut them to size with a CNC-controlled cutting robot. This robot directly applied a 3D contour for an optimal tube-to-tube connection with welding edge preparation.
In June 2020, the bus station was opened.