02 | 05 | 2023
Mike Minten new CEO of Kersten Group
From 1 May 2023, Mike Minten (37) is CEO of Kersten Group. He replaces Hans Besseling who recently announced his departure, having held the position since 2002.
Career
Mike Minten is no stranger to the Kersten Group. In 2009, he started his career as a Sales Engineer at Kersten in the Netherlands. From 2013 to 2018, he was abroad to the United Arab Emirates where he set up and grew a fourth subsidiary of Kersten. Since his return to the Netherlands, he has held the position of Managing Director of Kersten in the Netherlands. From 1 May, he is also CEO of the Kersten Group.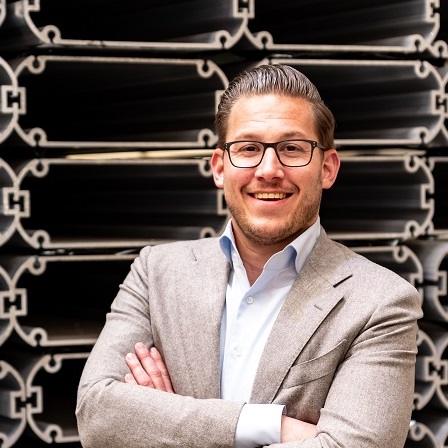 Continuous innovation
In his new role as CEO of the Kersten Group, Minten responds to new opportunities, markets and innovations. "Kersten has always been a pioneer in its field and we want to stay that way. For instance, we are innovating with projects that focus on sustainability and energy transition. In addition, a key focus is on developing our team, modern technology and digitalisation, making the organisation even more agile and efficient."
Continued growth
The new CEO is looking forward to his new position and is confident about the future. "I see plenty of opportunities for further growth and continued development of Kersten. We have a strong team with great craftsmanship and experience, and modern machinery with which we can meet any technical challenge. Our International Sales Team is driven, knows the markets we serve today, but also knows where tomorrow's opportunities lie."
About Kersten Group
Kersten is a global leader in bending technology. The company consists of four branches (in the Netherlands, Germany, Poland and the United Arab Emirates) and over two hundred and fifty employees. Kersten's bent parts and structures, in both steel and aluminium, find their way to all parts of the world. Kersten supplied prestigious projects such as Burj Khalifa and Expo 2020 (Dubai), but is also involved in offshore projects related to energy transition and other developments aimed at a more sustainable world, such as CO2 storage facilities, among others.
Back to news